Richie Rich on the Trail
After losing Lady, Bo, Strider and Dew, Rich (Ch Clemyr Adieu to Mullins) came into my life in early November 2003 thanks to a couple of Angels named Myrl and Glenda. Well Rich soon became my hiking, backpacking, four wheeling partner, doing everything with me except play golf....which shows how much smarter he is than me! This photo was taken while hiking the Barnhardt Trail in the Mazatzals Range. This was Rich's first hike of any distance, about eight miles round trip and he did great!
---
Catchin' Rays in the Land of AZ!!!
Didn't take Rich long to appreciate the benefits of Arizona's winter sunshine! This photo was taken thirteen days before Rich's sixth birthday when, without realizing the timing, I had him neutered. Now none of my friends will tell me when their birthdays are! And I'm sure Rich was dreading what I was going to give him for Christmas!
---
Rich loves to sit on my lap when I'm on the computer and is mesmerized by the goings on in the cul de sac where we live, and really gets excited when a cottontail happens to hop into view. Occasionally he'll hop onto the chair on his own as he did for this photo. I just hope he's not deleting files or sending out e-mails!
---
Rich and Christopher, my grandson, hit it off big time. Shown here sharing a warm spot in the sun while visiting over Thanksgiving.
---
I lost Lady to cancer in October 2002 and she was followed by Bo in February 2003. Fearing the worst, that February I had my vet run a liver panel on Dew which came back indicating, with almost certainty, that she too had cancer.
Because Dew had never been alone, I contacted the Basenji Club of Northern California and picked up an eight year old Basenji male rescue, Strider, to keep her company. We were visiting Glacier National Park in August 2003 when Dew first began showing symptoms of her liver cancer. Tragically, while traveling home from Glacier Strider escaped from my motor home while at a rest stop in Idaho and was killed by an eighteen wheeler five months to the day after I'd picked him up in California.
With it now being clear that I would soon be losing Dew as well, I was in a state of depression from which I wasn't sure I could ever recover. Then I received an e-mail from Myrl and Glenda Galdeen, a couple I'd known since 1992 through the old Prodigy Bulletin Board, but had only met once, at the Basenji Club of America's National Specialty in Hillsboro, OR in 1995. Included in the e-mail was this photo: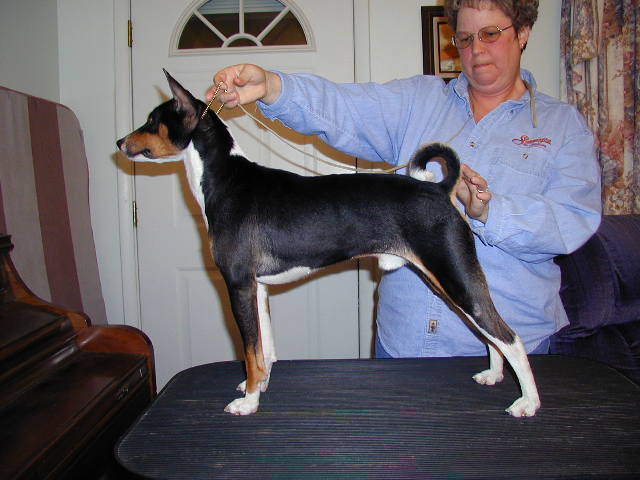 The e-mail's message said they wanted me to have Rich, a Retired Champion, and all I had to do was get him from Michigan to Arizona and he was mine.
I had hoped to get Dew through to her eleventh birthday, December 31, 2003, but lost her November 1. I phoned Myrl and Glenda asking if I could come get Rich and their reply was, "He's waiting for you"; so the next morning I headed for Michigan and the Basenji boy who would soon become my best friend, my hiking, backpacking, four wheeling partner; and who would bring joy and laughter back into my life.
I'm writing this just seven days after Rich's tenth birthday, but you'd never guess his age from his looks or his behavior.....he still thinks and acts like a silly puppy, wanting to play...play....play....until it's time to curl up in my lap and snooze while I read or watch TV.
It's now 4:45 in the afternoon and Rich is doing everything he can to let me know it's time for me to feed him. I will, then I'll brush his teeth as I do every afternoon; then we'll play our usual games of tug-O-war/keepaway/toss and fetch with one of his stuffed toys, games he never tires of and games I feel honored to share with him.
---