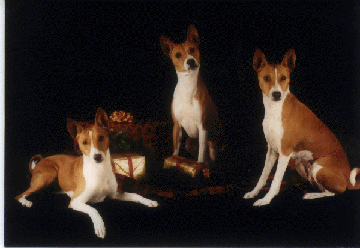 John Richardson and the Evenstar Basenjis! Welcome to our site!
We're Lady, Bo & Dew. We moved to Arizona from Walnut Creek California in April of '01 with our pet quality human, John Richardson. We love running, playing, eating (Dew's favorite!) and lying in the warm Arizona sun. Some people think Arizona's too hot, but we think 110 degrees is just right for catching some rays, 'specially when Pops (That's what his daughter Linda calls John) has the air conditioning turned on in the house. What a waste of good hot air!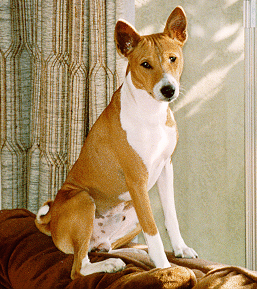 BIF Evenstar's Bodacious Bushbaby, JC, FCh. December 31, 1992 - February 6, 2003 Rest in Peace Big Guy. You were a great dog and a wonderful friend. You are always in my heart.
Hi, My name's Bo and I'll be narrating these pages for you. Pops introduces me to folks by saying, "You've heard of Rin Tin The Wonder Dog? Well, this is Bo The Wonder Doofus!" Yep, he loves me! I was born at 7:15 a.m. New Year's Eve, 1992, fourth in a litter of five. Little sister Dew followed me about 45 minutes later! Wow! What an exciting New Year's Eve that was for Pops!
HERE ARE SOME SPECIAL LINKS:
Read about the very special Basenji girl that started all this!
Read the Antics & Predicaments of Lady, Bo and Dew and a Tribute to Strider.
The Rainbow Bridge
Learn about Sighthound Field Trials!
Meet Our Riverton Wyoming Friends!
The very special boy that came into my life in Nov. 2003!
Yeah, we really have an award!
Found this pup in a cave on Ford Canyon Trail, White Tanks Park

John A. Richardson
EVENSTAR BASENJIS
Sun City West, Arizona
To Contact, Sign Guestbook